How to order
1. SELECT THE SIZE

Once the item has been identified, from the product page, you need to select the desired size, our sizes range from 20x15cm up to 45x45cm, the dimensions are always expressed as Base X Height, 20x15: (20 cm Base x 15 cm Height)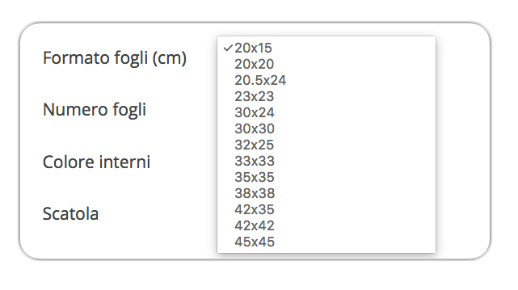 2. SELECT THE NUMBER OF SHEETS

Select the number of sheets, the internal blocks can have a variable number of internal sheets, they can go from 30 sheets up to 60 sheets (each sheet represents 2 sides available for pasting photos, 30 sheets are 60 sides available.

3. SELECT THE COLOR OF THE INTERNAL PAGES
Select the color of the inside pages, you can choose white or black, we use high quality acid-free cardstock.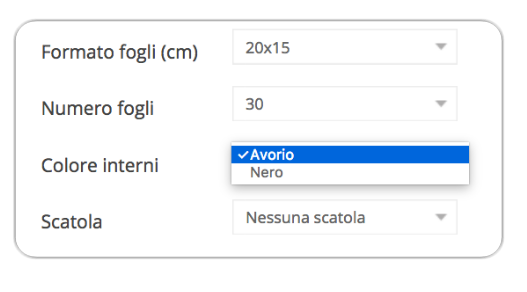 (It is possible to combine the album with its coordinated box or case. The boxes and cases are handcrafted tailored to the size of the album, they are completely covered both internally and externally with materials coordinated with the album)


4. ADD TO CART
5. ENTER NATION OF DESTINATION, NAME AND SHIPPING ADDRESS
6. ACCEPT THE SHIPPING CONDITIONS
We use an express courier with delivery times from 3 to 5 working days, once the purchase has been made, the tracking number will be sent to monitor the shipment.
7. ACCEPT THE PURCHASE CONDITIONS
Our conditions follow the standard online sales rules with all the related protections for our customers.
For any problems during the purchasing process, please send us a mail, we'll follow you on the purchasing, or write us on whatapp +39 3348661461 and you will be guided to the purchase.
Thank you